On Sunday, May 2, 2010 I tasted the best baked beans I've ever had in my life.  I know I'm a melodramatic person but just ask my parents, and they will agree with me on the baked beans.
The most amazing baked beans I've ever tasted were made by Pittsburgh Caterer, Bart Duva, of Bart's Catering & Fine Foods. But let me also interject that Bart is not your average caterer. Bart is a very skilled, personable, and artistic chef who cooks MUCH more than a mean baked bean.  I learned this after experiencing a food tasting at his facility.
My oldest brother, Jeremy, is getting married at the end of this month (May 29th!:). His fiancé, Lyndsey, loved the idea of having a pig roast for the rehearsal dinner. Lyndsey's aunt recommended a caterer (Bart Duva) she has used for various events. So, my parent's and I had the pleasure of attending a tasting hosted by Bart and his friendly staff.   (**SIDE NOTE: Ironically, last summer, I stumbled upon Bart's website and was totally sold even before I tasted any of his food. His website was resourceful, filled with pictures, and his menus had a creativity unlike any other caterer I've seen in the Pittsburgh area- I'll touch more on that later…) As you can imagine, I was pretty excited when I found out that BART was the caterer Lyndsey's aunt recommended.
We tasted so many amazing types of food like delicious spreads, awesome homemade salad dressing, pulled pork and roasted pork, incredible! potato and macaroni salad (seriously, I'm very picky about those two things and Bart's recipe was out of this world!). We also tried his seafood boil-which gave me the opportunity to try some new things I've never had before. These were just the main dishes. Bart had a variety of sauces and sides to accompany his already delectable creations. The food had so much depth and flavor (this review is killing me! I'm so glad I get to have this food again in a couple weeks!). I could go on and on.
I'm no food connoisseur but let's face it, I love food. The things, I believe, that set Bart apart from any other catered food (as well as restaurant cuisine) I've had are several things:
-Flavor
-Creativity of presentation and creative use of flavor
-Bart's down-to-earth and genuine personality
-Bart's ability to understand the type of event, the mood of the event, and how client's want their guests to feel
-Themed menus
-Variety in his menu
-Ability to customize a menu to fit his client's needs
So, when you plan your next event, do not hire just any caterer. Hire someone who becomes a friend, has the skills of a talented chef, and has the name, Bart Duva.  You won't be disappointed.
Next Month I'll post pictures of Jeremy and Lyndsey's Pig Roast Rehearsal Dinner because once you see the food, you'll want to taste it.
Find Bart's Catering and Fine Foods online at:  http://www.bartscatering.com
You can also find him on Facebook.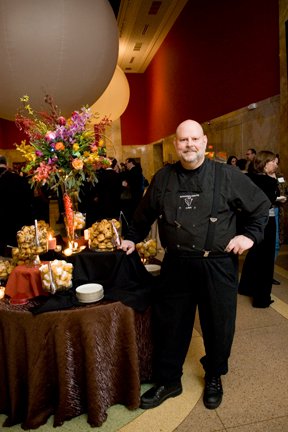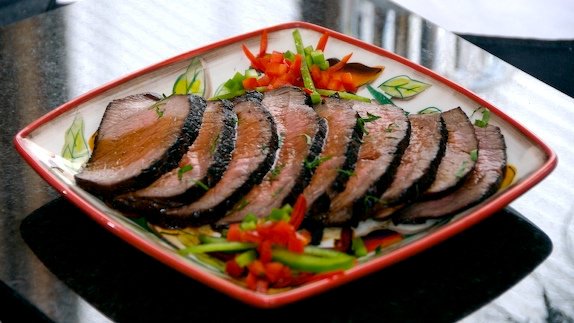 ALL IMAGES ARE COURTESY OF BART'S WEBSITE AND FACEBOOK PAGE. IMAGES IN THIS BLOG POST WERE NOT TAKEN BY SCHELLER IMAGE AND DESIGN.
AND CHECK OUT MY INVITATION DESIGN FOR THE REHEARSAL DINNER: